It is that time of year again, where I stick everyone in the face with my grubby opinions. All in all I purchased 50 2008 album releases. Nearly one a week. And although there is one week left in the year, there is nothing about to be released (to my knowledge) that I think would mind blowing. So here it is, my top 10 Albums of 2008.

10. Secret Lives of the Free Masons- Weekend Warriors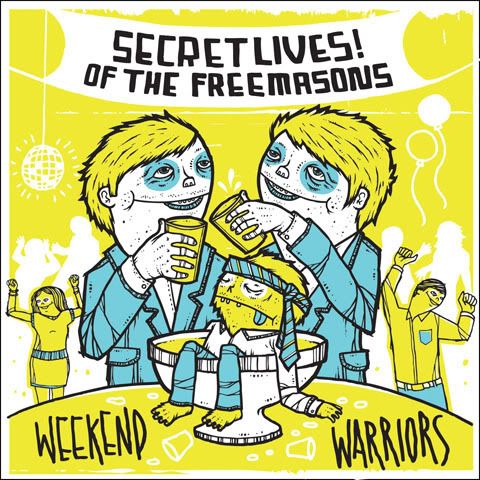 I was turned on to this band by a friend, and although I haven't taken the time to compare this album to their older music, I would say this album is as good of an introduction to the band as anything else they could have put out. Overall this album is extremely high energy, fortunately not in an overly poppy way. But just as the title states, it's high charged, and ready for fun. Even when the band makes slight stabs at more important things then drinking beer and partying (like girls, and backstabbing friends) they don't lose their fun, and amped up feel. It seems more and more there are far fewer albums that I can listen to start to finish, without skipping tracks. This is one of those albums. This band is so much fun, it's hard not to like them. Even the most serious of characters will find themselves singing along, and tapping their foot to the songs, hours after listening, as they easily get stuck in your head. And with song titles like "XanaX" "Chug and Leave" and "Life begins at 40oz" you know these guys are here to party.

Stand out tracks: "Chug and Leave", "Airplanes"

9. Norma Jean- The Anti-Mother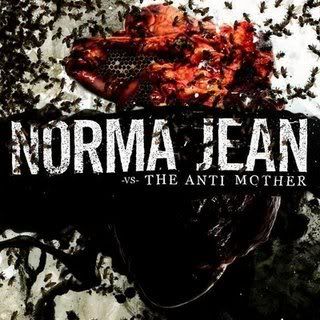 Norma Jean is an extremely easy band to hate with all the "emo" (ugh) tweens (ugh x2) running around with their t-shirts on, but sometimes you have to let a band's image go, and just listen to the music. And while listening to The Anti-Mother you'll hear something extremely familiar...the same dirty and raw riffage that Norma Jean has been doing for so long now (despite the member changes). It seems the band has lost some of it's original fans over it's last two releases, but there are songs that give you the chill of anticipation like their older tracks ("Like bringing a knife to a gun fight"). Interestingly enough Norma Jean calls on Chino Moreno of the Deftones to appear on a few different songs. I found this quite interesting due to the fact that Norma Jean was born of the band Luti-Kriss, and when originally introduced to Luti-Kriss many years ago, my best friend described them as "Deftones on speed." Chino's dreamy and again "raw" vocal stylings mesh perfectly with Norma Jean's sometimes ambient music. The Anti-Mother definitely utilizes a less-is-more approach, making it not so much about a break down, but letting a song breath (Much like a standout blues player lets a solo breath), but if you are looking for an album to amp you up, you should have this one your list. Hard, raw, aggressive, well-produced, and at times slightly catchy (In a brutal way of course)

Stand out tracks: "Robots 3 HUmans 0", "Discipline your Daughters"

8. Atmosphere- When Life Gives you Lemons, Paint that Shit Gold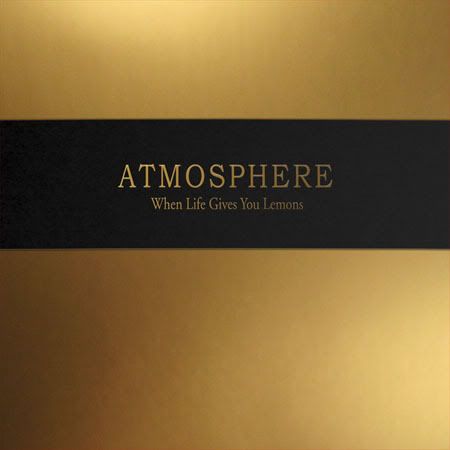 Admittedly when I first purchased this album, I hated it. It wasn't because I had high expectations (in fact I think Atmosphere for the most part is hit or miss), but I just didn't give it a fair listen. I was looking for what Atmosphere has delivered before, hard beats, hard lyrics. I wasn't looking for (or expecting) the lyrical depth that this album produces. I will say that even now there are a few beats I am not too crazy about, but the lyrical content overrides any of that. Slug doesn't shy away from any topic on this album, but focuses mostly on issues that far too many Americans deal with in their life time, parents splitting up, teen pregnancies, family members dying, homelessnes, drug and alcohol addictions. If you are looking for ring-tone-rap, i'm sorry, but this isn't your album. Despite there being some production on this album that isn't my style, there are some songs that are straight up motivation. "Puppets" starts with a simple clap and piano sound in the background, no drums, letting Slug express some things verbally, but when the beat finally breaks, it evokes an incredibly overwhelming feeling, delivering that powerful expression that Atmosphere does so well. I don't know what it was like to live Slug's life, but I have a much better idea after listening to this album. It's probably the only album that can take me from wanting to stand on the counter at a bar and pump my fist, to nearly breaking down in tears all in the same hour.

Stand out tracks: "Dreamer", "Your Glass House", "The Waitress"

7. Game- LAX Files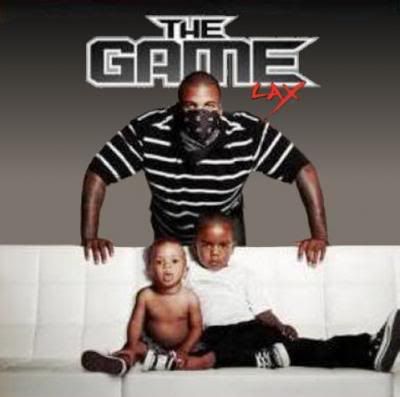 I've been a fan of Game since his debut, and it doesn't hurt that he usually has the top producers in the game spinning beats for him, but he has a quality that a lot of other popular rappers are lacking, and that's a passion for making music that he wants to make, not what other people necessarily want to hear. For example the song "Angel" has such a ridiculously old-school beat, that most suburban whities would cringe at, but Game slaps it smack dab in the middle of the record, and kills it lyrically and makes it work. Game also takes listeners into deeper waters with "Never can Say Goodbye" a song about the loss of hip-hop icons Notorious BIG, Tupac, and other rap legends. Game flows, the production is nuts, it has lyrical content, I don't know what more you could want from a hip-hop album. It's an instant classic.

Stand out tracks: "State of Emergency", "LAX Files"

6. The Ghost Inside- Fury and the Fallen Ones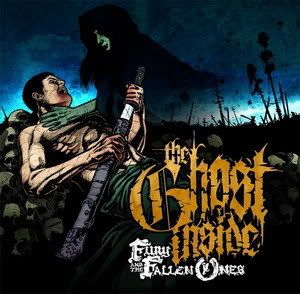 I can't quite recall how I stumbled upon this band, but it is nearly everyday I am thankful that I did. This album is a derivation of metal-core, no two ways about it. There is nothing new here, nothing revolutionary musically, but they do what they do, so damn well. Everything from guitar tone, to drums, to the singers scream is just perfect. This band doesn't bludgeon you over the head with needless and seemingly endless breakdowns. Instead they provide a high paced in your face album utilizing punk-style beats, brutal chugs, off-chords, and the type of screaming that even an un-trained ear could understand lyrically. The Ghost Inside is Killswitch Engage meets The Acacia Strain meets The Hope Conspiracy. If you like any kind of metal, or hardcore or punk, get this album.

Stand out tracks: "Faith or Forgiveness", "Blue and Gold"

5. Trenches- The Tide Will Swallow us Whole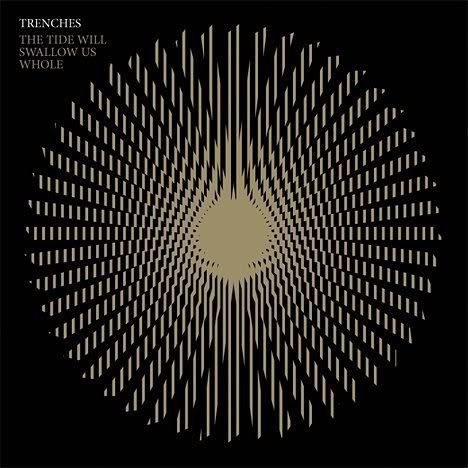 Trenches is ex-Haste the Day (who also has a good 2008 release) singer Jimmy Ryan's newest project. I didn't know what to think of this album when I first heard it other then "This guy sounds like Zao." This album is droning, crushing, overpowering. It is monolithic in it's approach. Each track is laced with thick and low crunching guitars juxtaposed with airy and hollow lead parts (hollow in a good way!) creating a messy dream of music that is almost trance like. This album is just plain amazing. This album lives up to it's name, it actually feels like an unstoppable ocean tide pulling you deeper and deeper out to sea, until you are immersed in it. Transitions from track to track are seemless, aiding the tidal wave effect of this album. This is for fans of Zao, Intronaut, Jesu, and Pelican. It's rhythmic, it's HUGE.

Stand out Tracks: none, they are all amazing.

4. Architects- Ruin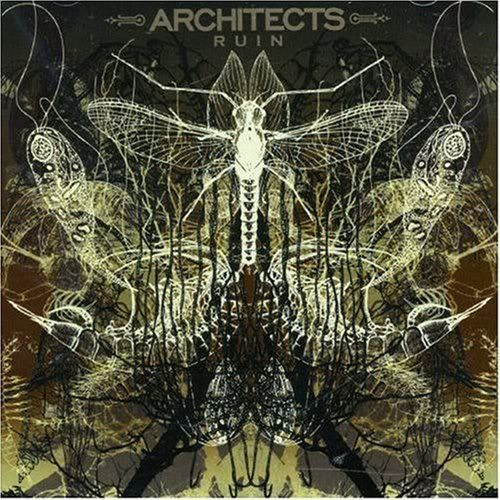 Okay, so technically this album was originally released in 2007, BUT it was re-released with more songs in 2008, and since I missed it in 07, and since it's that good, I'm putting it in my top ten. Personally I feel tech-metal is hit or miss, but Architect manages to introduce mind-boggling metal shredding, into a realm that most hardcore-toughguys feel comfortable in. If you ever wondered what Dillinger would be like if they played more composed music...this is it. There is no showman shredding, there is no chaos for the sake of chaos, It is hectic, and anxious music, but it is all for a reason, and it is never overly done to the point of annoyance. The only thing that comes close to reminding me of this band is Oh, Sleeper, but then again Architects does the style so much better. It has it's crushing moments, it's unbelievable guitar playing, but it is just as relentless as an August Burns Red album.

Stand out tracks: "Buried at Sea", "North Lane"

3. City and Colour- Bring me your Love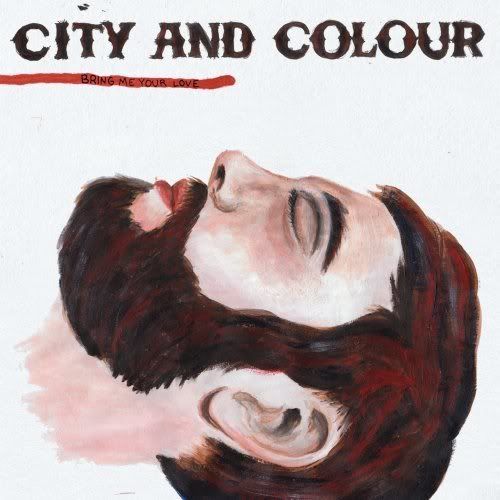 This is yet another album I didn't care for the first time I heard it. I was so used to Dallas Green's first EP and album which in my eyes was more or less a Canadian Dashboard Confessional. Looking back, it makes me realize that Green's earlier work as City and Colour was exactly what you would expect a guy like him to do with an acoustic side project. Bring me your Love breaks out of that mold, it's a lot more...dare I say folky? The production sounds a lot more natural, and the guitar sounds like a classical, not the smooth buttery sounds of his older work. This album is some what dark, dealing lyrically with self-death (in fact the cover is a painting of Green sleeping, or perhaps even dead) The music is more composed from a melody standpoint, and in general has a lot more feeling then his older work. Listening to it, it is hard to believe he is one of the master minds behind one of the best screamo-bands currently on the scene (Alexisonfire). These songs have the power to make you feel in love. They are so powerful emotionally, and amazingly all very simple songs. It is a masterpiece start to finish.

Stand out tracks: "Sensible Heart", "Confessions"

2. Joshua Radin- Simple Times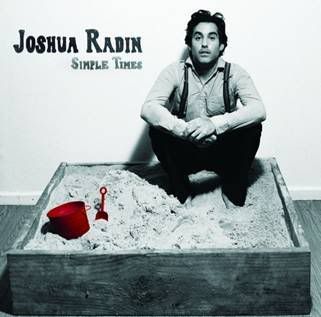 There are some amazing songs on Joshua Radin's previous album, but this album is so much more complete. I can't think of any other artist that can do so much with so little natural talent. Radin doesn't have a huge vocal range, the guitar work isn't groundbreaking. His songs are simple, but have such a genuine feeling. Like Anthony Keidis, or Billy Corgan, Joshua Radin doesn't have a very traditional voice, but when he is singing, you know it is him. This album is soothing, it's smooth, and natural sounding. If this album was a smell it would be natural wood, if it were a sight it would be tall grass blowing in a breeze, if it were a taste it would be...warm apple pie.

Stand out tracks: "One of those Days", "Friend like you"

1. Meshuggah- Obzen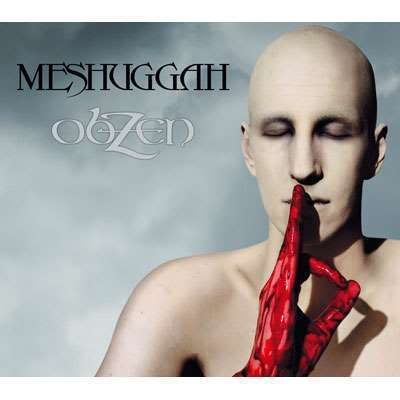 Meshuggah is known for their conformed chaos, their odd yet smart time signatures, their inexplicable grooves, and rhythmic riffs. Obzen doesn't dissappoint, yet for the first time Meshuggah packages it together in a way more structured then any before. I wouldn't dare call it "traditional song structure," afterall there isn't a track under 4 minutes long, with some pushing upwards of 5 or 6 even one reaching the 9:36 mark, however this is the most understandable messhugah album to date. That is only part of what makes it great. This album is intelligent. Meshuggah may play 8 string guitars, but unlike most "heavy" bands these days they don't ride the bottom string until they're blue in the face. Instead they use it in creative ways, such as just when you think the band has bottomed out on a note, they take it down another level lower when you least expect it, creating crushing waves of riffage, which is a perfect landscape for their vocalist to deliver his usual machine like barks. I used to listen to listen to this album my last semester of college while sitting in the library on campus doing logic homework. This album has such a flow you lose yourself in it, and in it's songs. Meshuggah didn't reinvent themselves, they just finally perfected what they were always working towards.

Stand out tracks: "Bleed", "Obzen"

Albums that didn't make the cut:
Misery Signals- Controller: Maybe if Mirrors was never released this would be a consideration, but that was a tough act to follow and I think they came up a tad bit short, it's not a bad album, it's just not what I had hoped for.

Unearth- The March: Many people weren't thrilled with their previous release, and have praised this one. It's not bad, but it doesn't give me any reason to listen to it, it's just another metal album.

Protest the Hero- Fortress: The first time I heard PTH I was blown away, but they are a niche style of music, one I can only tolerate so much of. Once again this album isn't bad it just doesn't offer anything that their previous work hasn't already covered.